CORT Party Rental in Everett, WA
Transform any occasion into a memorable celebration with CORT Party Rental! Event rentals for gathering near Seattle, Bellevue, Edmonds, and all of Washington state.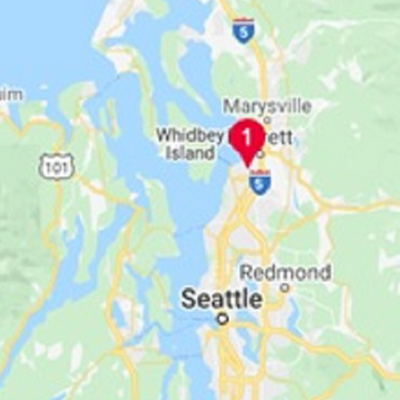 Your Premier Wedding and Event Rental Company in the Pacific Northwest
CORT Party Rental in Everett, Washington, provides party rentals, outdoor event tents, and unmatched professional services to party planners and event professionals hosting gatherings in Washington, Oregon, and Idaho. We believe in making your event one to remember, which is why we're committed to providing white-glove service and the largest inventory of party rental equipment and tents in the Pacific Northwest. From tables, chairs, and fine china to lighting, misters, and canopy tents, our showroom and warehouse in Everett, Washington contains everything you need to create an unforgettable event for your guests. In addition to a wide inventory of innovative and trendy products, our team of event specialists and crew members are committed to bringing your dream event to life. With more than 50 years of experience in the event planning industry, you can trust that you're in good hands when you partner with CORT Party Rental. From professional event planners to caterers to brides planning their dream wedding, we love working with folks searching for a way to create a memorable experience for their guests. It doesn't matter if you're hosting a social gathering for ten or a festival for thousands — we have the expertise and products to wow your guests, while ensuring they're safe and comfortable. When you step into our Everett showroom, one of our event specialists greets you with a smile and curiosity about your upcoming event. They'll guide you through every step of the planning process, from picking out beautiful plates, glassware, flatware, linens, and additional event products to coordinating important logistical needs, such as requesting permits or setting up lighting in the parking lot. Then, when your big day arrives, our team delivers and sets up your event with precision and care. Ready to create memories that will last a lifetime? We're at your service to champion your vision.
Rent Tables, Chairs, Linens, and More for Your Event in Washington
From backyard bridal showers to charitable galas to sporting tournaments, every event is an opportunity to make a lasting impression on guests. Events big or small, CORT Party Rental teams up with you to create a venue that looks spectacular and operates with ease. Our ever-evolving inventory of party chair rentals, tables, dance floors, prep and service equipment, lounge furniture, tents, and more provides endless ways to design your event. Our team loves working with established event professionals who have years of experience just as much as we love working with first-time party planners with a beautiful vision for their upcoming event! Because at the end of the day, we believe whole-heartedly in our mission: to serve clients by providing quality products, extending knowledgeable guidance, and delivering unparalleled installation and removal services for your event. Let's work together to bring your vision to life.
Explore the Largest Inventory of Wedding Rentals in Washington
For brides and wedding planners who want to curate a breathtaking venue for the big day, look no further than CORT Party Rental in Everett, Washington. Our event specialists will guide you through our premier showroom, giving you the opportunity to hand-select the tables, chairs, linens, flatware, fine china, and more. Our extensive inventory of products also include lounge furniture, bars and back bars, audio/visual equipment, lighting, climate control systems, and so much more. Do you have a very specific vision in mind? Our collection includes a range of styles to chose from. If you're imagining a farmhouse wedding, discover a range of white, dark wood, and natural wood chair and table rentals. For brides who want a classic, romantic atmosphere, choose from our extensive ivory, white, pink, and metallic tablecloth rentals. From bohemian to garden-chic, our catalog of wedding rentals can make your venue sparkle. Whether you need to rent wedding chairs for the ceremony or want to create the perfect place setting for guests at the reception, we can equip you with event rentals that make your wedding memorable for years to come.
Rent, Buy, Repair or Store an Outdoor Event Tent with CORT Party Rental in Everett
Need proper outdoor coverage for your guests? CORT Party Rental has the largest inventory of outdoor event tents in Washington, Oregon, and Idaho, with tents that range in shape, size, and color. Whether you need a bandshell tent over a stage, a pole tension tent for a golf tournament, a clearspan structure tent for an outdoor reception, a canopy for a corporate event, or a frame tent for restaurant patrons sitting outside, our team can engineer the right tent structure for your needs. Together, we'll determine the right size and accessories needed to make your guests feel comfortable, including: side walls, entry doors, gutters, heating, lighting, signage, and more. In addition to designing the ideal tent for your event, we can assist with getting proper permits for your structure. When the big day arrives, our team delivers and professionally installs your tent, then removes it when your event is over. Ready to discuss your one-time, seasonal, or annual tenting needs? Our professional team is ready to help. Interested in purchasing a tent? CORT Party Rental provides new and used event tents for sale. No matter what kind of tent you're searching for, we're likely to have the size, color, and shape that meets your needs. In addition to tenting structures, we offer accessories, like walls, doors, ballasting, and more in our catalog. If you already own an event tent — or multiple — CORT Tenting Solutions offers storage solutions, repairs and cleaning services! We know just how labor-intensive it can be to maintain an event tent — let alone how much space is required to store them. Which is why we've built a state-of-the-art washing facility and temperature-controlled storage warehouse to ensure the tents are protected from damaging elements like heat and water. Learn more about our annual maintenance programs and call to secure your on-site space today!
CORT Pro Services Offers Electrical Distribution, HVAC, and Lighting Options for Your Event
Our inventory and expertise go beyond linen and chair rentals. CORT Pro Services provides turnkey temporary power, climate control, and lighting solutions custom designed for your live entertainment event, sports tournament, wedding reception, or other outdoor events. From simple services to comprehensive packages, our team of skilled technicians can deliver a safe, efficient, seamless experience for your event. We manage your project from start to finish by designing a plan for your event, providing appropriate rental equipment, delivering on time, setting up, and breaking down when the day's done. Our inventory ranges from generators, power cables, power distribution panels, and cable ramps to outdoor fans, patio heaters, and emergency lighting. Create a safe and comfortable event for your guests with CORT Pro Services.
Where Does CORT Party Rental Deliver?
At our Everett location in Washington state, CORT Party Rental primarily delivers party rental products to Seattle and the northern parts of Washington state. We have a sister location in Fife, Washington that services the southern part of Washington state. Cities we deliver to include, but are not limited to: Seattle, Everett, Redmond, Woodinville, Bellevue, Kirkland, Lynnwood, Edmonds, Shoreline, Mukilteo, Bothell, Mercer Island, Arlington, Snohomish, Medina, Marysville, Woodway, Bothell, Langley, Whidbey Island, Mill Creek, Friday Harbor, San Juan Island, Orcas Island, Bellingham, Mount Vernon, Anacortes, Oak Harbor, Stanwood, Ferndale, Lynden, Issaquah, Snoqualmie, Cle Elum, Ellensburg, Leavenworth, Spokane, Yakima, Kennewick, Tri Cities, Walla Walla, Wenatchee, and Chelan. CORT Pro Services are available in Washington state. CORT Tenting Solutions are available in Washington, Oregon, Idaho, and even Northern California. If your event falls outside of these geographic regions, please call 877.939.7368 and let us know more details. We'd be happy to see how we can help!